This past Sunday, I was offered free tickets to Monday's basketball game between the Washington (Char)Wizards and the Bos(Magne)ton Celtics at the Verizon Center in DC.
As some of you know, I'm fan of the NBA, and the Wizards, in particular. In fact, since moving to our nation's capital a few years ago, I've attended at least 15 'Zards games, including last year's home playoff defeat to the Bulls (fuckin' Mike Dunleavy). I'd already been to three this year, in part because I have a partial season ticket plan, and I will probably end up going to double-digit games in total.
However, the closest I'd ever sat was the 200-level, and that was once. Typically, I sit up in the 395-level nosebleeds and drink $11, 24-oz cans of Budweiser. This, time though, the tickets were a far different proposition.
We were going to be sitting courtside. Like, Jack Nicholson, Spike Lee-esque courtside. Parallel to the visitors bench, with a full zero chairs in between.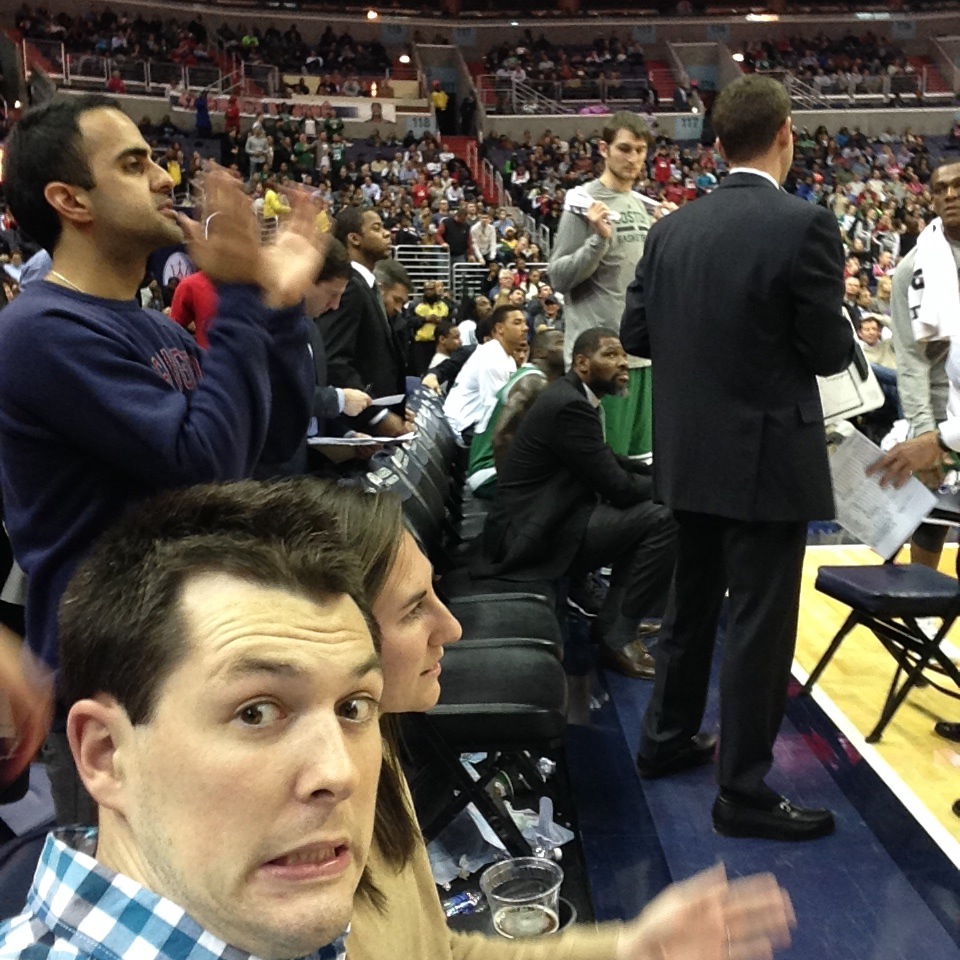 The entire experience was a revelation, and would have been so even if the game hadn't been so spectacular (the Wizards won by one point in Double OT). And since it was so formative, and I really feel blessed to have been given such a rare level of access, I figured I'd share some pictures, videos and details with all of you.
In fairly-chronological order, here are some things I thought were noteworthy, funny, weird or "neat," as my friend KeNN would say. All pictures courtesy of my cell phone.
1. Tyler Zeller looks high and uninterested at all times.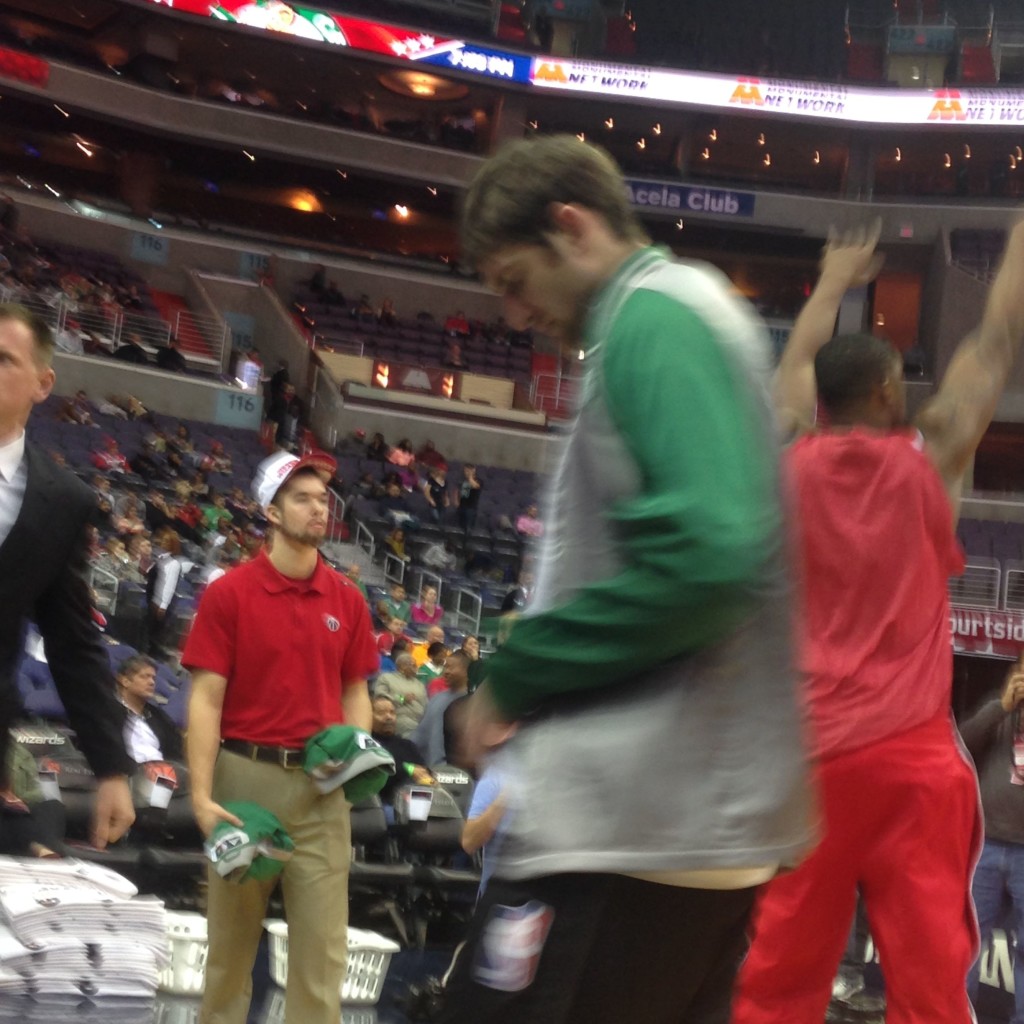 2. Sup Rondo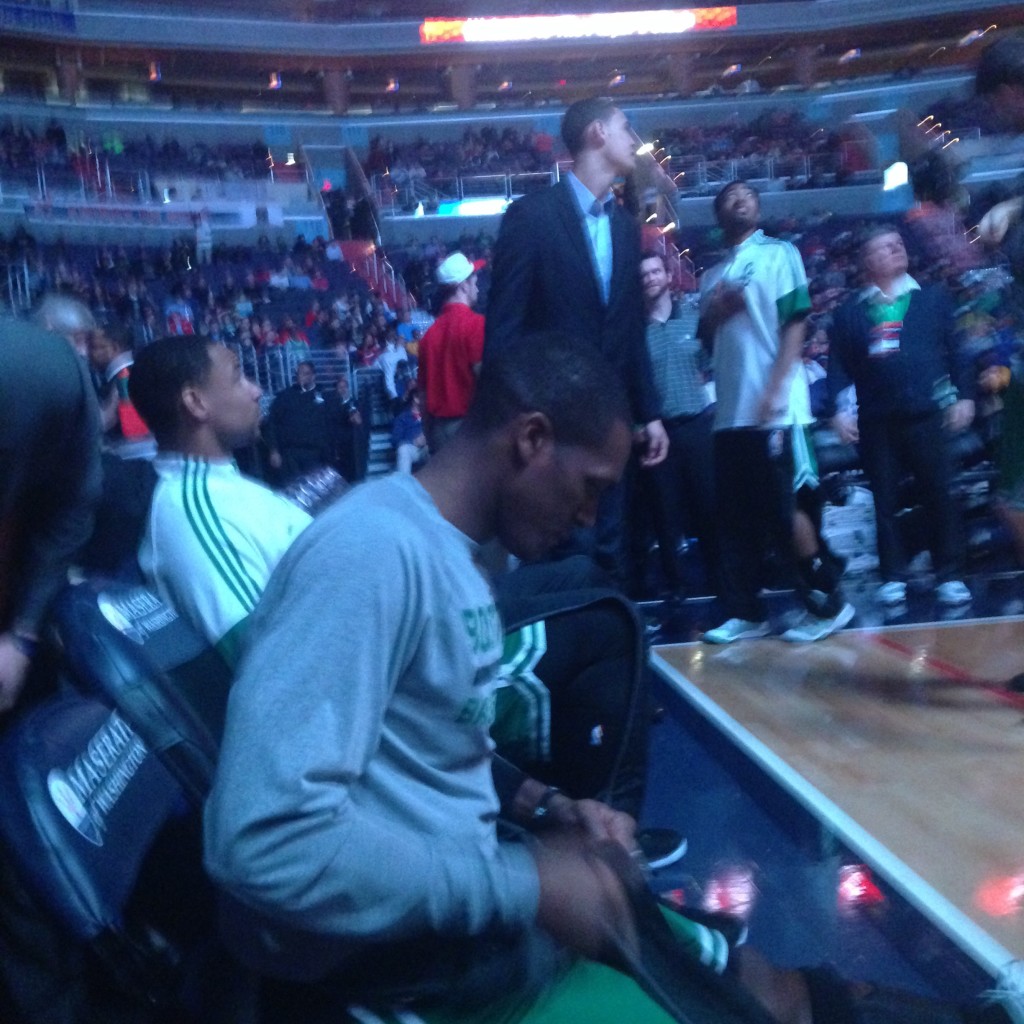 3(95). Celtics rollin' deep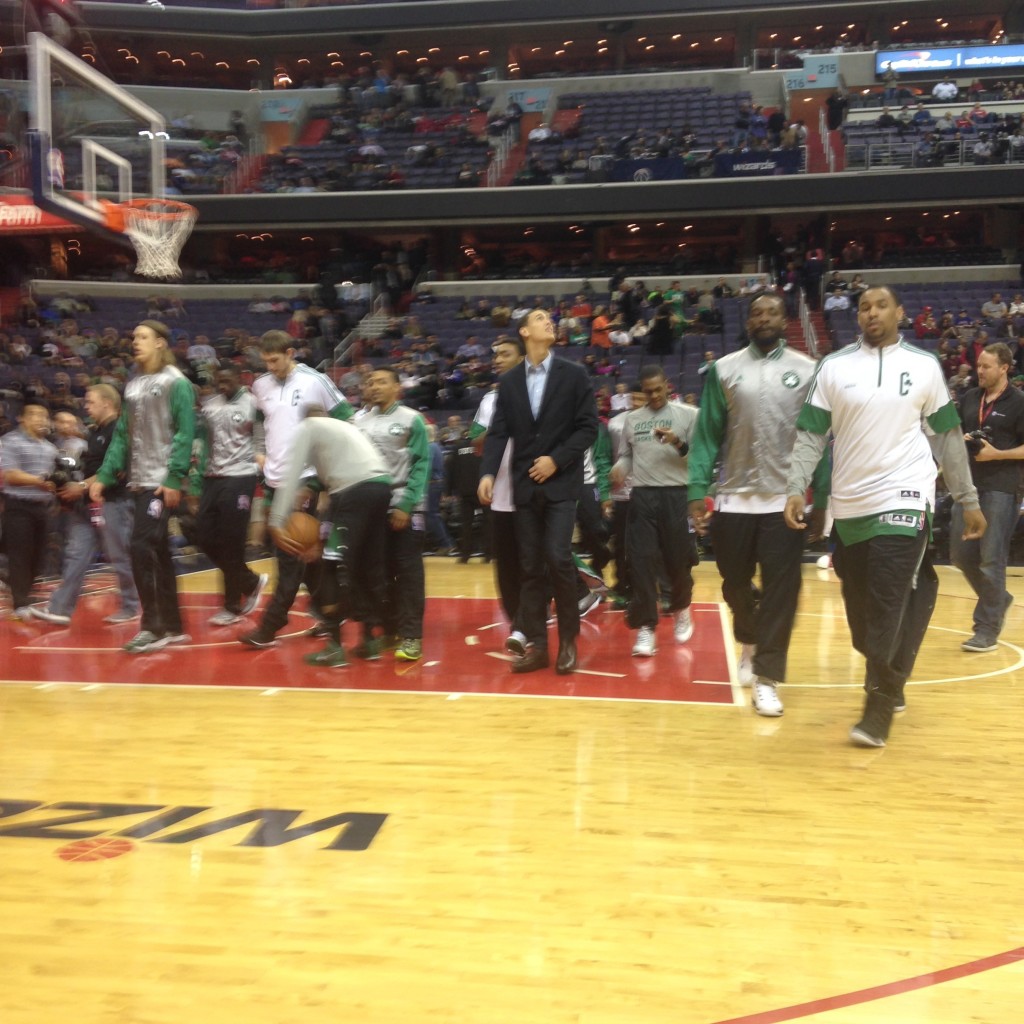 4. Kelly Olynyk is taller and has longer hair up close than from far away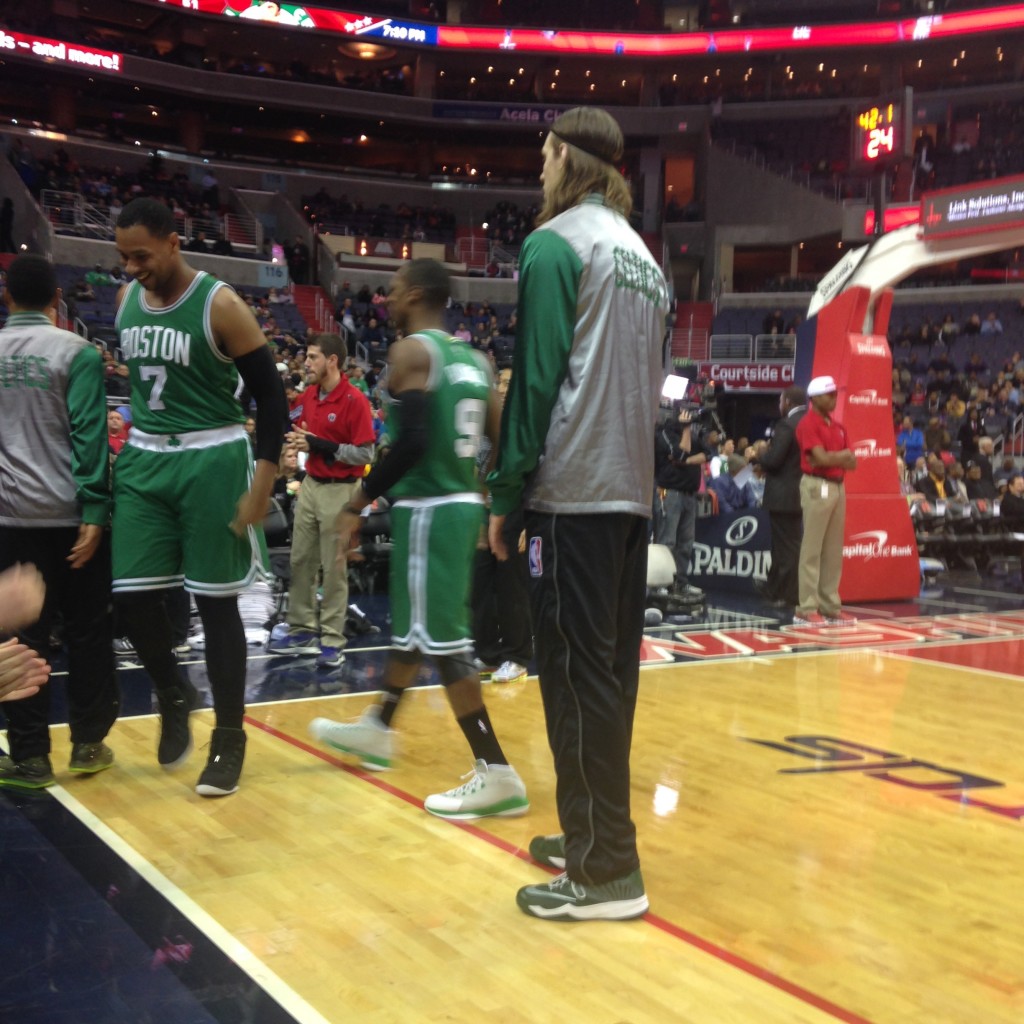 (39)5. Before the national anthem was sung, the stadium's announcer asked for a moment of silence in honor Miyah Telemaque-Nelson, a 6-year-old girl John Wall had befriended who unfortunately had just succumbed to cancer.
Everyone rose to honor Miyah, including Jeff Green, who decided he didn't mind standing with his back less than three inches in front of me. Like, there would have been more distance between us if he and I had been slow-dancing in middle school.
Sparks flew. It was intimate.
6. Evan Turner doesn't always pay attention during team huddles.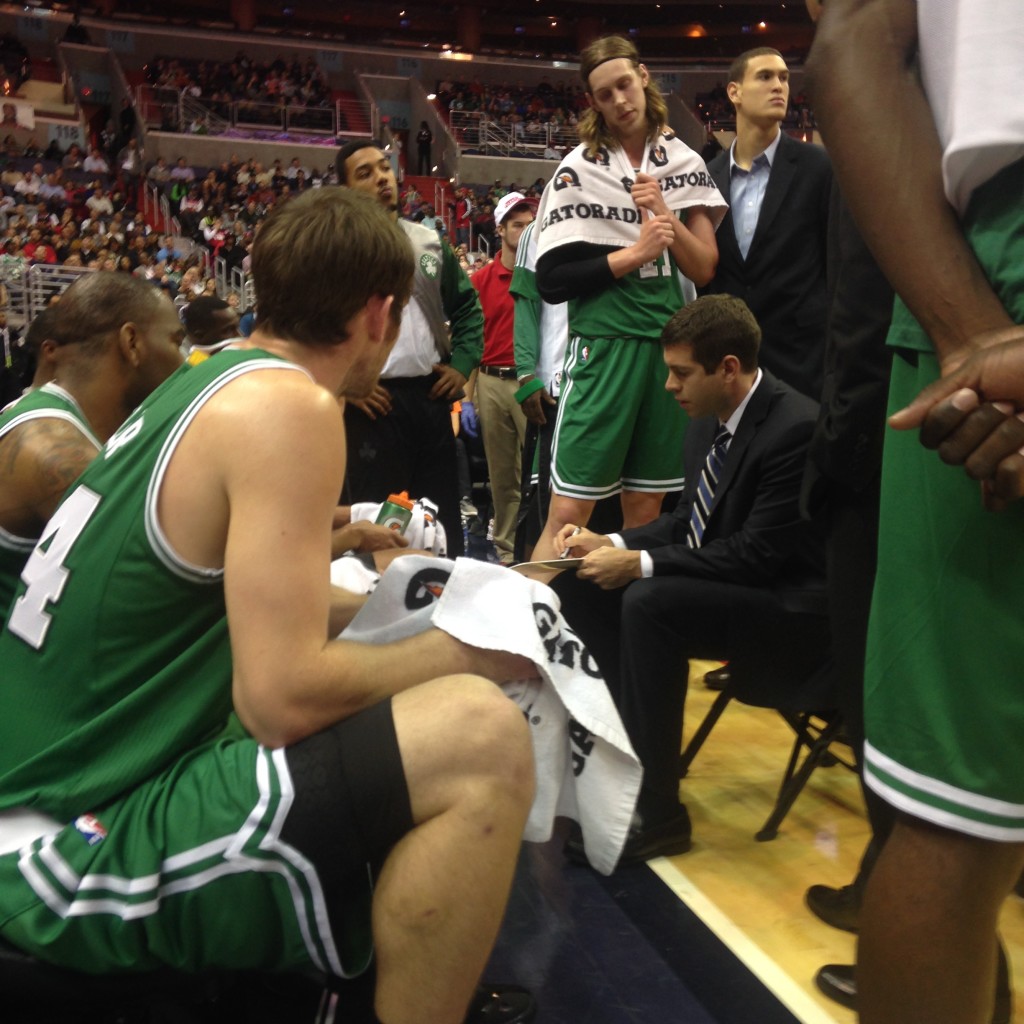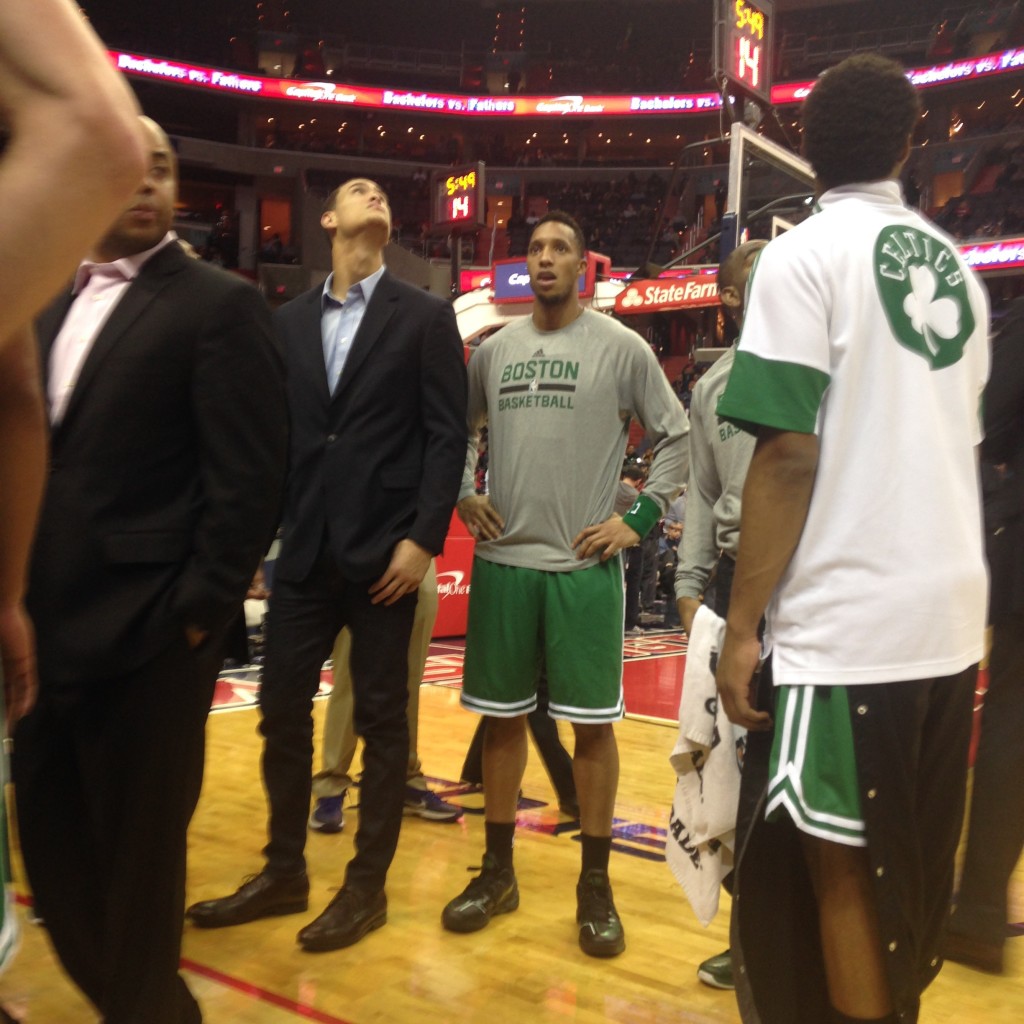 7. Apparently during timeouts, each team receives a paper copy of the live box score, assuredly to help the coaching staff diagnose areas for improvement (e.g., "Gortat is killing us on the offensive glass, you need to start boxing him out!"). Apparently, they sometimes print out extras, as my girlfriend and I were given a leftover copy during the first timeout of the game. I found this incredibly exciting. It was basically a souvenir available to only us.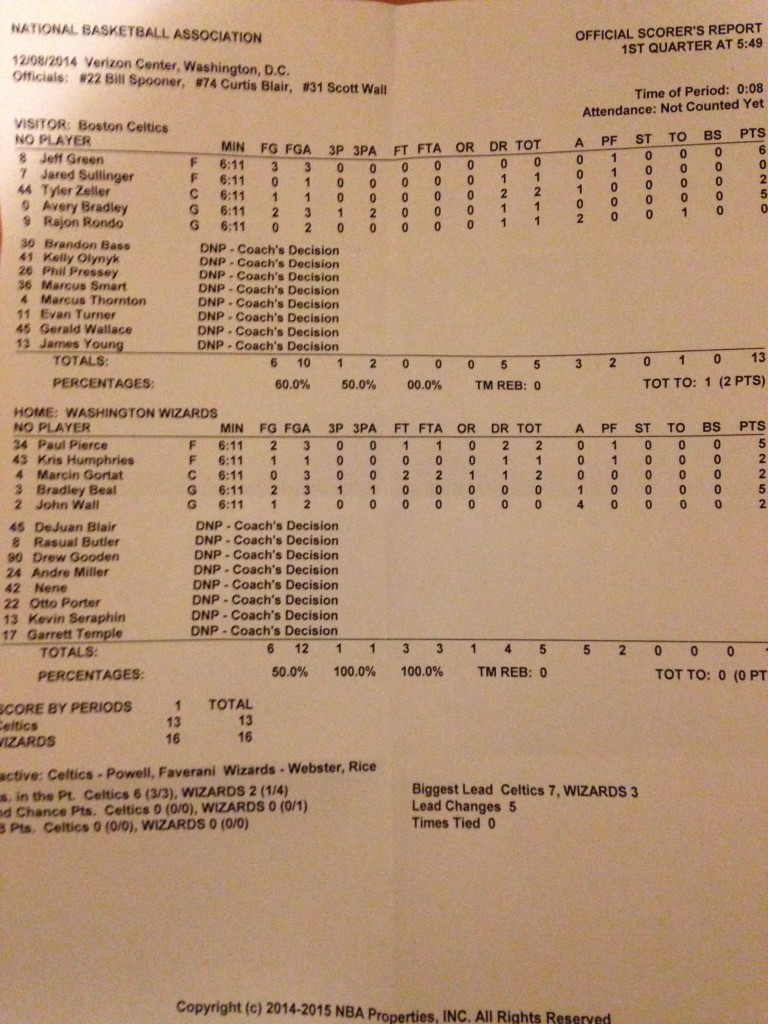 7. At one point, the Celtics, and Jeff Green specifically, were about to in-bound the ball from the sideline. Celtics head coach Brad Stevens directed Green to run a play called "Zip Go." The play was designed for Avery Bradley, which I thought was a smart call by Stevens, since Bradley had just hit a couple shots.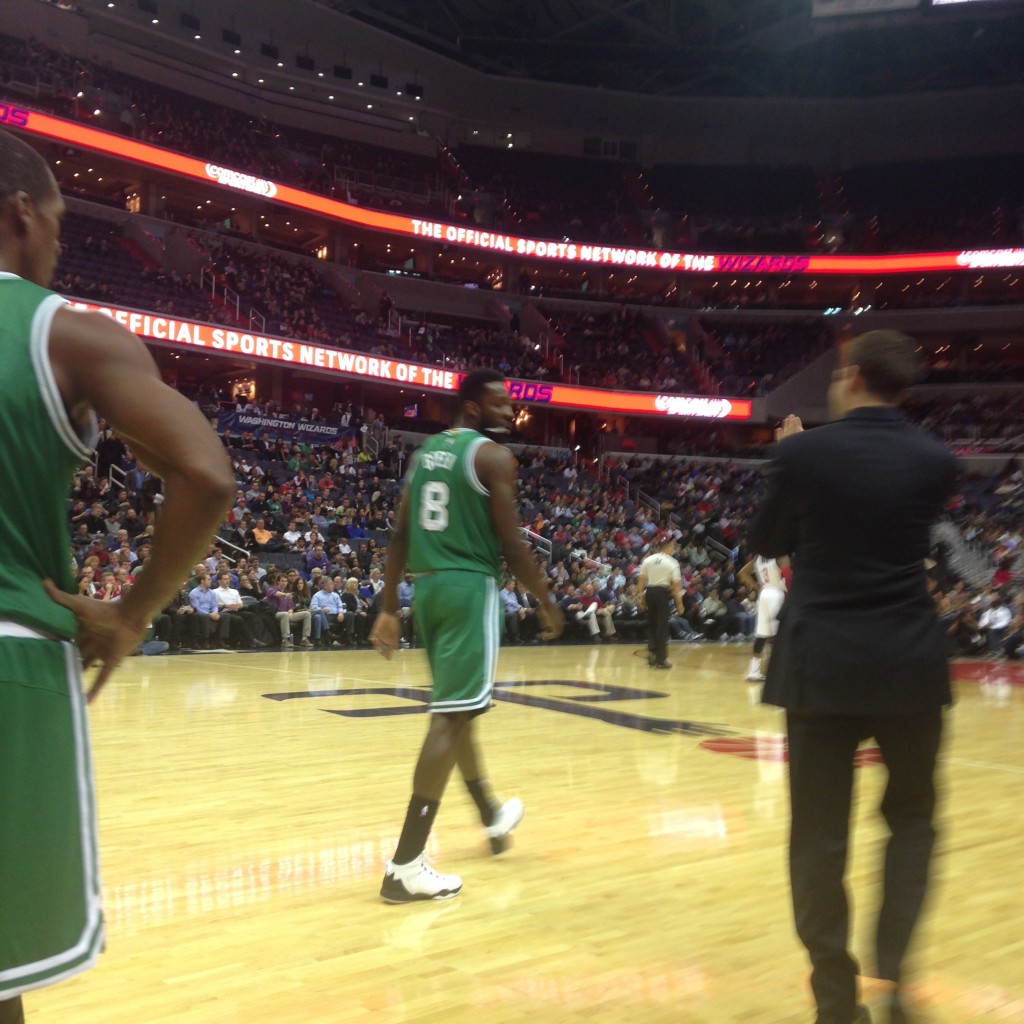 However, the play was not executed well at all. Jeff Green looked confused at first, so Stevens had to reiterate which play he was calling. Avery Bradley did end up getting the ball, but instead of following directions, he ad-libbed, resulting in an off-balance, contested three-pointer that did not find the net.
Brad was not pleased, and soon after this sequence there was a stoppage in play, during which Stevens called Avery Bradley over to talk it through. He chastised, "Avery…. we called Zip Go… we worked on putting in "Go" this morning!….. what are you doing??"
It was hilarious, and the type of stuff that you just could never pick up on if you aren't so close to the game that the referee's ass is blocking your view.
8. Speaking of which, one of this game's referees was Billy "Little" Spooner. Alright, I admittedly made up that nickname, but I still think that's what he should go by.
(3)9(5). Bradley Beal is even more handsome up close as he is far away. Dimples for days.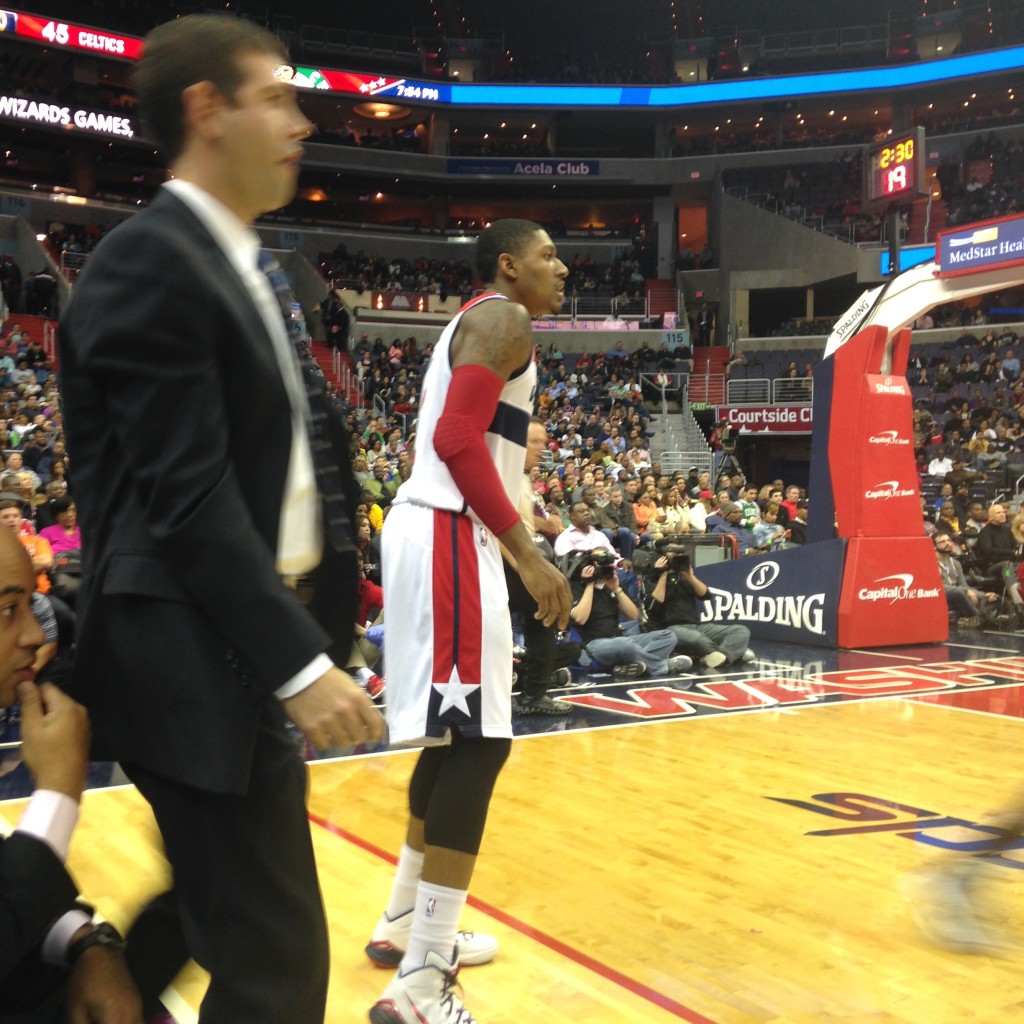 10. Tyler Zeller's has exquisite calves.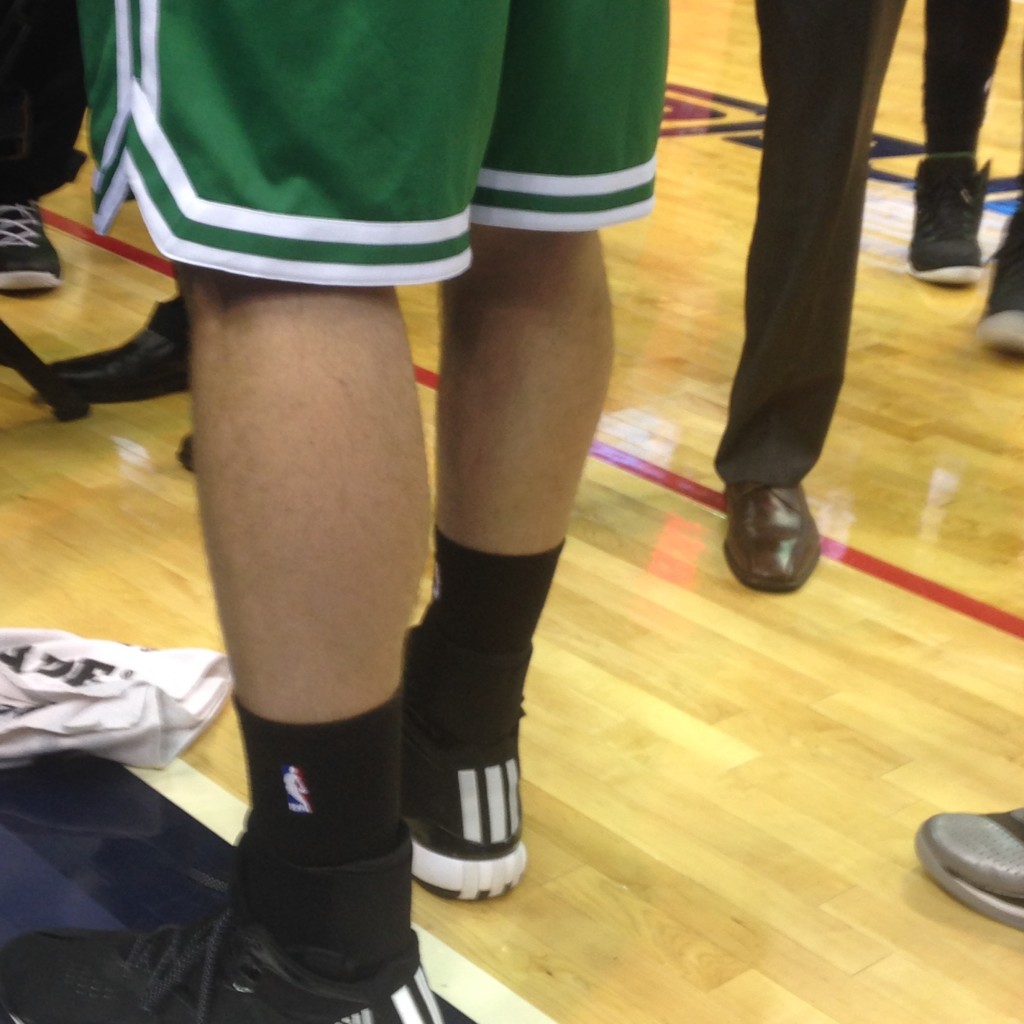 11. At one point in the first half, the Celtics had the ball, and everyone was standing still. Brad Stevens started yelling, "Cut! Cut! Cut!" to try and instill some motion into his offense. Instead, nobody moved, and the ball swung to Marcus Smart at the top of the key. Rather than passing and moving, Smart held onto the ball for a few seconds, then tried to drive straight down the lane into traffic. Unsurprisingly, this resulted in an ugly, very contested brick of a floater.
Stevens turned around and started walking toward the bench, shaking his head and muttering, "that was such bad offense…. that was SUCH bad offense." Good times.
12. In a bout of naivety, I had assumed that attending a game courtside worked the same as any other seat – that you just show the normal usher your ticket and walk down the aisle to find your place. This is not the case.
An attendant met us by the door after going through security, taking us down a private elevator to a red-carpeted room. We then walked through that room and took a different elevator down to the ground level, where there was a different dining room lined with red carpet containing tables, a huge flat-screen, couches, and a private open bar.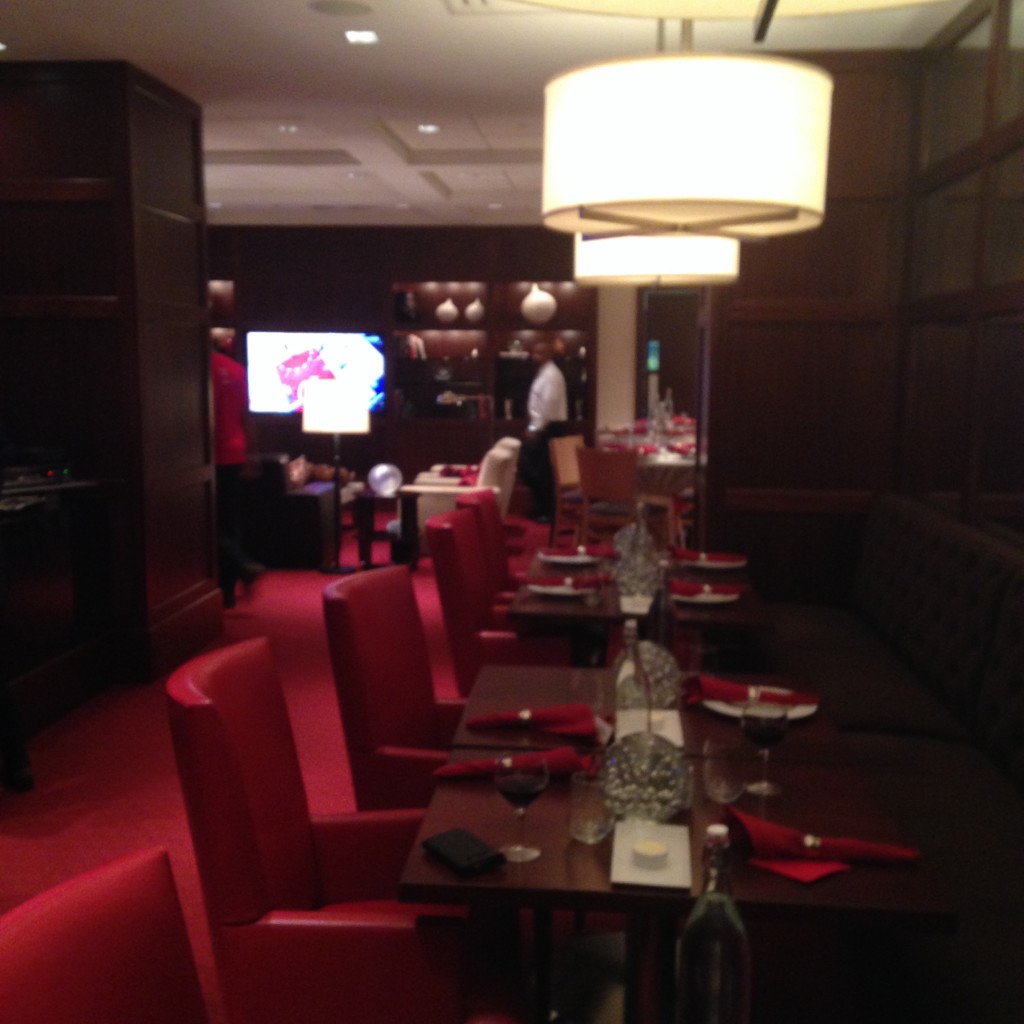 We were then escorted, past the locker rooms, to our seats. In fact, you're not allowed to go anywhere by yourself. You have to be escorted to and from the bathrooms, even (which, of course, are private as well).
About two minutes before halftime, your server comes to escort you back to the dining room, where they have laid out a full buffet. Oh, and they ask you ahead of time what drink you want, and have that drink waiting on your reserved table when you arrive.
Basically, I'm trying to paint the picture that the whole thing is impeccable and upscale, and FAR too classy for the likes of me.
13(95). The Truth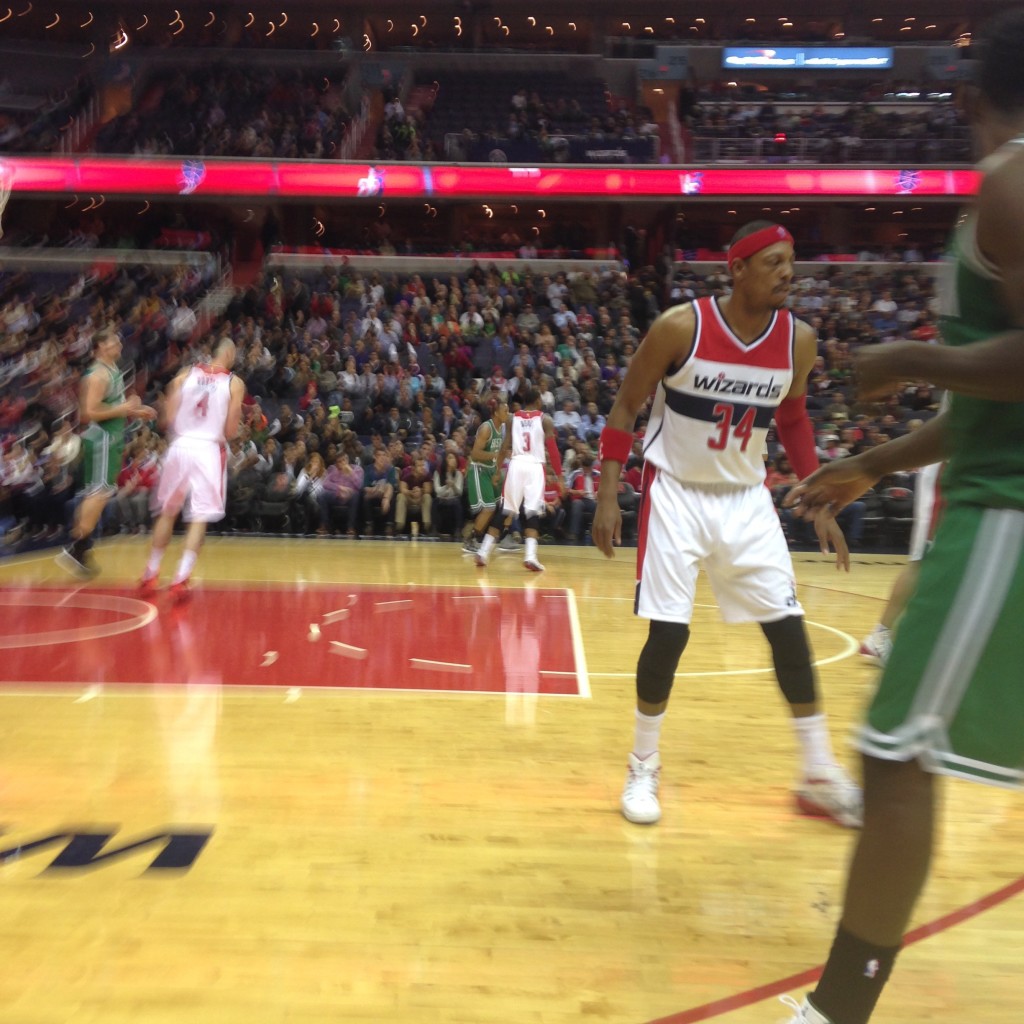 14. Did anyone notice that I have two #7's on this list?
1(39)5. As it turns out, extra copies of the box score weren't limited to the game's first timeout. In fact, by the end of the game, we'd received 19 different copies.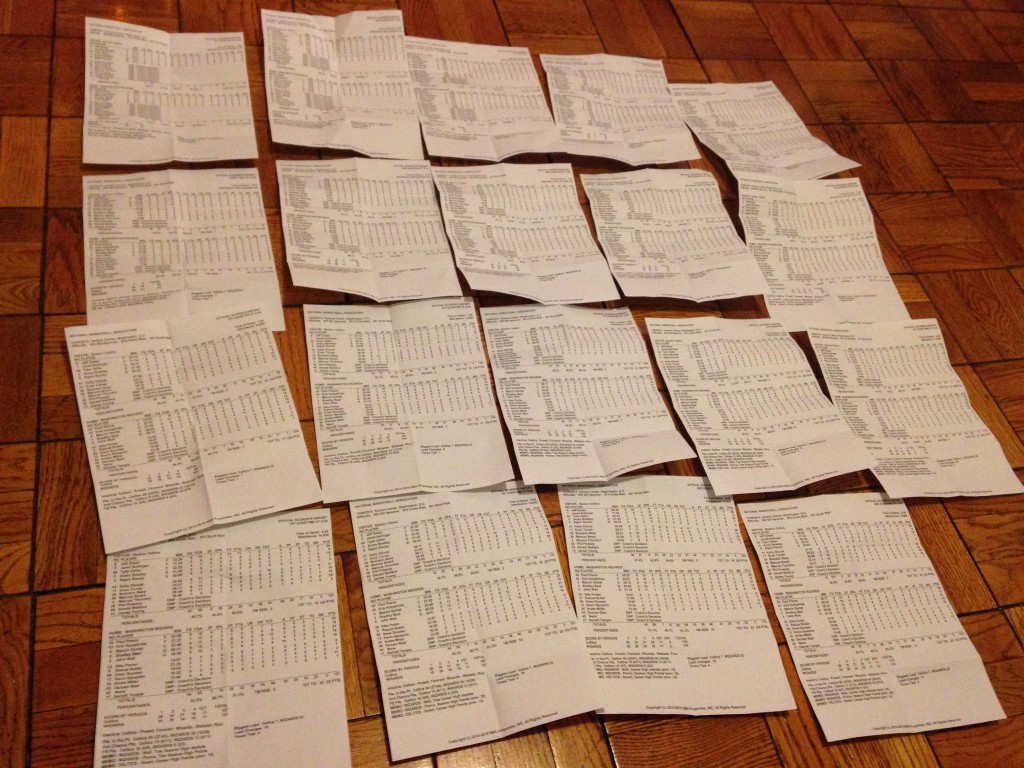 All of them came from this guy (NOT Gerald Wallace), who told us he's a physical therapist on the Celtics medical staff: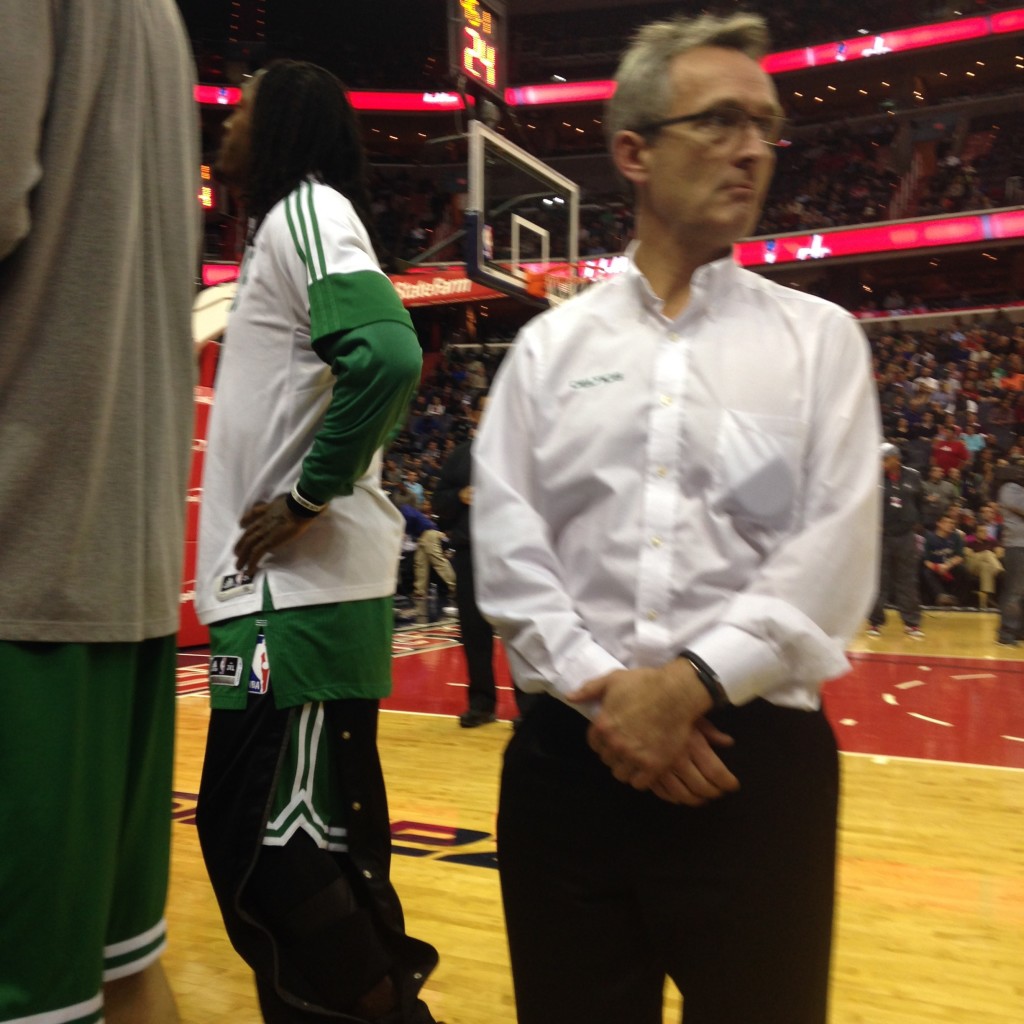 He chatted us up a bit, and I thought the whole thing was hilarious, so I tried twice to get him to autograph a box score; regrettably, he just smiled and looked a bit taken a back. He also wouldn't bite when I asked him if he had a favorite, and then least favorite, player on the Celtics.
My theory: he had to just be messing with us, right? I mean, what does he think we want with the 19th box score of the night? He must know we have nowhere to really put them, right? Whatever the answer, this guy is a true American hero.
16. For most of the game, the Wizards were ahead, peaking with a 23-point lead. During the fourth quarter, though, the Celtics mounted an enormous comeback, storming all the way back to eventually take the lead with a few minutes to go.
During a timeout, Jared Sullinger was standing around in his warm-up suit, having not played in awhile. The guy seated behind me asked, "Hey Sullinger! Why aren't you playing at all?" In good humor, Sullinger turned and responded, "We were down 23 when they subbed me out of the game. Then we came back. Probably not a coincidence."
17. With under three minutes to go, the score was close, and players were hustling. They were literally diving for loose balls. Like, into the crowd, on top of me:
Shouldn't have been sitting there!
18. The Wizards clung to a three point lead, down to the last possession in regulation. Then the Celtics pulled off basically the exact same sequence when Ray Allen hit that famous shot in Game 6 of the 2013 Finals to tie it up against the Spurs – they bricked the first 3-point attempt, scrambled for the rebound, kicked the ball out to the right corner, and then hit a step back three to tie it up.
Ray Allen makes sense. This time, it was Evan Turner. I was pretty incredulous, which you can make out in the video below pulled from SporsCenter the next day.
Good stuff.
19. In Jay-Z's song Empire State of Mind, he has a line, "sittin courtside/ Nets and Knicks give me high-fives/" Well, I can't claim any contact with a Net or a Knick, but I did get a high-five from Jeff Green. Or at least, when I stuck my hand out for one, he sort of gave me a pound. Or like, tapped my hand or something.
So what if he only did it begrudgingly??? What are you trying to say???