There's been an elephant in the room for a long time. Something we've all known about, but none of us have been willing to address. In today's post, I'm finally biting the bullet, speaking out on what everybody's been thinking for the past twenty years. This needed to happen. For all of us.
Over a decade ago, sports & media mogul Bill Simmons created The Atrocious GM Summit – a fake gathering of NBA executives who, in his estimation, had done a terrible job building their team's rosters. This concept turned into a running gag over the years, and featured a slew of different names – most notably, ex-Timberwolves General Manager David Kahn. I'm now proposing we invite a new candidate to this year's meeting-of-the-mediocre-minds: Mr. Swackhammer.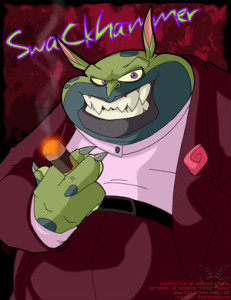 Most of you likely remember the main beats of Space Jam – the 1996 classic which documents the exploits of His Airness and a ragtag group of toons as they defend their freedom against the invading Nerdluck carnies, and their threat of perpetual slavery. Some viewers might also recall that the Toon Squad's epic comeback largely came down to some spectacular feats of athleticism and tactical wizardry, all of which ended in the Monstars mutinying against their domineering, Danny-Devito-voiced leader.
Yet, while much of the credit – rightfully so – has been given to Bugs, Daffy & Co. for their clutch play, grit, and perseverance (both mental and physical), I would argue that not enough blame has been doled out to the losing side. More specifically, I believe that the Monstars, before the first whistle had even been blown, were walking into an animated Red Wedding, the outcome all but decided.
The reason? They just had no semblance of a coherent roster strategy.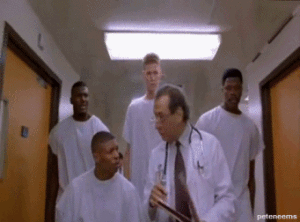 Now, I want to make sure I give credit where credit is due, acknowledging the savviness of Swack's investments in player development. This was a strategy that saw his rookie class develop the skill and physicality of Hall-of-Fame-caliber players by the time their first regular season game tipped off. I mean, Bogues, Barkley, Johnson, Ewing, and even Bradley to a lesser degree were all players any team would have wanted as individuals. By any estimation, that investment paid off big time.
I'll also concede that professional basketball in the mid-90s looked a lot different stylistically than it does today.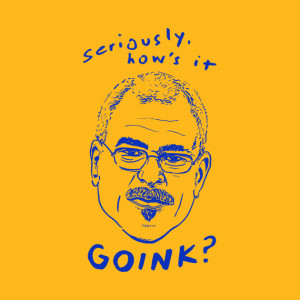 The analytics movement hadn't caught on yet; even luminaries in the field hadn't fully realized how much more effective a 3-pointer is than a regular field goal (spoiler alert: it's 50%). X's and O's were different because of that; you saw teams run a lot more Triangle actions than Pick and Roll, which is the majority of what you see now outside of the NY Kazoos.
Beyond that, though, there are a multitude of reasons why you should have had different player acquisition priorities in 1996 than in 2017:
Hand-checking had yet to be banned, increasing the importance of isolation pay
Zone defense rules were different
More lenient Flagrant and Clear Path foul rules allowed for much rougher in-the-paint contact
Size still matters in today's game, but not to the extent it did two decades ago. You couldn't get away with going small the way the Warriors and half the teams in the league do now. Riley's Knicks would have crushed you, and so Swackhammer was astute to prioritize size during the draft. He wanted to be prepared for that type of rough-and-tumble match-up.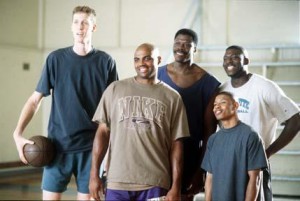 That said, how your players fit together, how the roles they each play add up to a broader collective – those are crucial factors to consider, and it just doesn't seem like Swackhammer did so at all. To start, Ewing and Bradley are both 7-footers, and are about as traditional at the 5 as you're going to get. That positional redundancy will always create problems, but is especially challenging in this case, as each tower will inevitably clogg the paint while his twin has the ball on the low-block.
Those issues might have been eased with stretchier players elsewhere on their roster, but that cramped spacing is instead exacerbated by adding Barkley and LJ to the mix. Those two ideally would each play at the 4, but instead are now forced to shift down to the 2 and the 3. In doing so, you're filling the wings with players who aren't suited for them, and you're pulling those players away from spots on the floor where they can have the biggest impact. Barkley, for instance, is one of the best rebounders we've ever seen – it's a waste to position him out of the paint.
Moreover, it's not like you can balance that super-sized lineup by adding Muggsy, the shortest player on record to ever play in the NBA. I mean, no matter how often he's able to penetrate and either kick or finish himself, he's never going to be able to shoulder all the ball-handling duties on his own. Who else is able to create and break down the defense, making plays and forcing rotations? Frankly, who on this team was he supposed to kick to? Look at the career three-point percentages for each of his teammates (and even himself):
Barkley – 26.6%
Bogues – 27.8%
Bradley – 10.3%
Ewing – 15.2%
Johnson – 33.2%
Despite the starriness of the names, the combination of them meant scoring points was going to be tough. In truth, they should consider themselves lucky the game was competitive at all. The only reason they were still in it at the end, despite their projected shooting woes, was that they ended up catching fire from distance, going a flukey 9-for-9 from beyond the arc:
That's an Effective Field Goal Percentage of 110%! Incredible! But surely unsustainable, and even with their unlikely, incendiary long-rage bombing, they still lost. Ball don't lie.
Their anticipated problems, too, don't stop on the offensive side of the ball. On defense, having those behemoths in the paint will foster elite rim protection, but neither Center has the footspeed to hang on the perimeter regardless of how they defend the pick and roll. Furthermore, Muggsy will always struggle on D given his size, as bigger guards can shoot over him – in the post or otherwise. There's nowhere to hide him, too, considering you'd then have to ask one of the oversized wings to guard the 1 – which itself would create all sorts of breakdowns.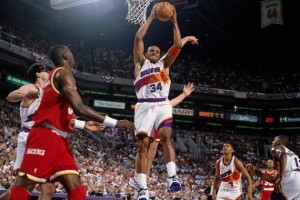 Really, the best they can hope for is that they clean up on the glass, and their ability to do that, I will give them, would be truly amazing; combining Barkley, the Round Mound of Rebound, with Ewing, Bradley and LJ would have been incredible on the boards. Yet that alone was never going to be enough, and it certainly was not ideal given all the other talent – Drexler, Pippin, Payton, Nique, Mullin, etc. – they could have used those lottery picks on to provide more balance.
As bad as all these things are, it gets even worse. After all, the specific archetype this team was most susceptible to – the big, athletic 2 who can both slash and shoot – is embodied by the superstar they ended up facing in Air Jordan!
Now, you'd be right to point out that Swackhammer drafted these players prior to MJ's participation in the competition, and so to some degree he can't be blamed for not being prepared to solve that problem. Everybody thought Jordan retired to play baseball; he didn't know he'd have that problem. However, what your roster looks like on the first day of the season isn't what it has to look like at the Trade Deadline. This year, for instance, the Raptors acquired Serge Ibaka and PJ Tucker in February to beef up the middle of their roster as they vie for the Finals.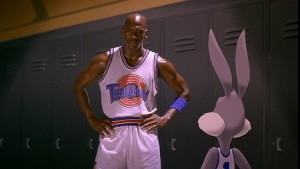 In fact, the Toon Squad themselves are case in point. They picked up Jordan himself midway through the year, recognizing they needed some help; hell, they even made a deadline-day move by adding Bill Murray, who contributed some crucial, game-deciding minutes down the final stretch. Why did Swackhammer just sit pat? Why didn't he plug up the fairly glaring holes he had against his primary competition?
That's the last straw, Swackhammer, I'm sorry to say. And because of all these failures, we're going to need to rename the Atrocious GM Summit. Moving forward, we're dubbing it with a new, more fitting moniker that directly references our new paragon of ineptitude: Moron Mountain.
……
Hmmmm… now that I think more about it, maybe Swackhammer didn't do all that badly. Maybe I'm being too hard on him. After all, it's hard to develop an optimal strategy when you just negotiated a new CBA: