All of our avid fans surely know that our website publicly launched on July  17, 2012, with Ezra kicking us off by asking everyone, simply, to Step In. However, this space was originally created by Siegel, Bullets and me on April 20, 2012, after shooting the shit for awhile in my apartment. That means that we've made it through 12 months. The fact that we've lasted this long and are still writing is one thing, but the fact that we've posted something in all 12 of those months gives us a profound sense of pride. It's a cause for celebration, bitches.
It's common around New Years for folks to reflect back on the year, as the turn of the calendar provides the arbitrary deadline that makes it easy to benchmark yourself against what you were hoping for. In the same light, Bobcat Territory's anniversary seems like an appropriate time for me to engage in such behavior, as it's a much more personal milestone than the turn of the year.
While contemplating all these things, I started looking at the pictures I've taken on my cell phone across the past year. For some, like my girlfriend, this would be an exhausting task; there would be too many screenshots or pictures of food to allow that process to conceivably take under 15 minutes. However, I'm a bit stingier with my camera usage, and that's resulted in a small collection of photos that all, for one reason or another, strike me as momentous. This Blogcat will serve as a review of those photos, and a look back at my life during the first year of Bobcat Territory's existence.
April 4, 2012 – Country Roads, Bring Home to Me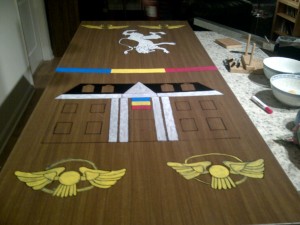 Bullets and I moved into the DC city limits in January of 2012, and immediately started playing pong on this table to the left. However, it was only in April that we finally decided that we needed to bring a bit more of Brothers Bar into our new home. After huffing the first paint-sharpies we purchased, we used the next batch to lay down our own design of rampant lions and winged sun-disks.
Since then, it's been a pong fest. The table's smaller, but ball still don't lie. Sure, it's a bastardized version of the true game, but the one-on-one match-up, the overhanging lights, the metal chair-leg we use as a net, and everything else adds a personal, quirky, and often-hilarious spin to the game we love. Don't even get me started on Bacon Shapleighs.
April 14, 2012 – Milo's Bathroom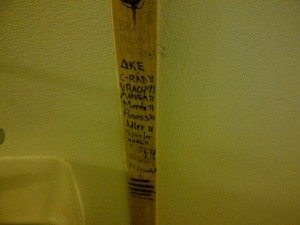 I've written before about the desire, and apparent futility, of leaving one's mark on the world. That's why this image was such a pleasant surprise when, 34 months after graduating college, I came back to school and came across this treasure while relieving myself in the bathroom of Milo's.
To come back and see all these names that I recognize, and was so involved with, is an amazing thing, but seeing this picture begs the question: While I know who Raoss is, and C-RAD will always be So Bad, who the fuck is Monte? What did I miss?
June 12, 2012 – Eye of the Storm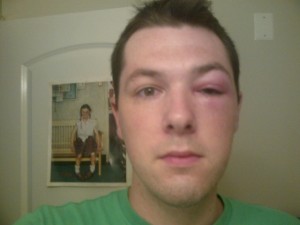 This is, and will always be, one of my favorite pictures of all time.
While begrudgingly doing yard-work at my girlfriend's house, I got stung in the left eyelid by a hornet. This took place two minutes after I'd been stung in the right kneecap by a hornet. Fool me once, shame on you. Fool me twice, it's on.
On the Sunday it occurred, and the day after, my eye was fine. Itchy, but aesthetically not bad. Then I got home Monday night. Oh boy. I ended up staying home from work the next day because it had gotten so terrible. The funny thing is, our building's maintenance people had been planning on coming into my apartment, and my room specifically, that day to fix our broken air conditioner. When they woke me up by bursting into my room, all parties involved were very confused. After all, I looked completely insane. I just imagine their thoughts were, "What the HELL is wrong with this guy's eye? Is he a leper or something?"
As I've discussed several times outside of this medium, the greatest thing about this picture is the fact that Norman Rockwell's The Shiner is coincidentally hanging on the door of the bathroom. Oh, SWEET IRONY!
September 1, 2012 – Hook Em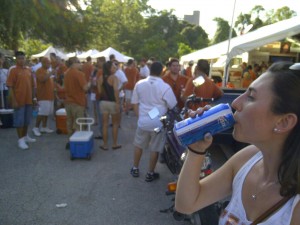 For whatever reason, my girlfriend and I took a trip to Austin, TX last year, and attended the University of Texas football team's season home opener. It was the first time I'd ever been to a major college football game. Unfortunately, we don't have a picture of the best part – the two men seated in the bleachers in front of us, arguing for an hour about Penn State and Sandusky, while the wife to the left texted an anonymous person about how drunk and obnoxious her husband was being. Pretty epic.
Attending an event like a UT Tailgate makes me think about my own college experience and how much alcohol policing varies from school to school. At Texas, thousands and thousands of fans, decked head to toe in school spirit, tailgated out in the open for a random game against Wyoming, from sunup to sundown, before making their way into the stadium to root for the home team. At Lafayette's Homecoming, the school allowed students to tailgate for only 2 hours, only on the lower level of a concrete parking deck, while treating everyone like children by hiring undercover cops to invade personal conversations to ask for proof of age, all before the students invariably went back to their rooms, neglecting the football game entirely, because their school spirit had been murdered. Pard Pride.
September 22, 2012 – Dark and Dusty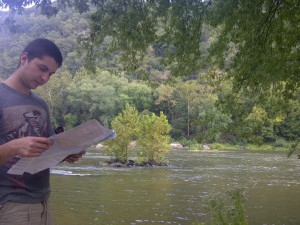 Bored on a Saturday, Bullets and I decided to drive to Harper's Ferry, WV to enjoy the nice weather. What I hadn't realized was that the old town was snuggled alongside the Blue Ridge Mountains and the Shenandoah River. Ohh, Mountain Mama. 
Before this trip, I'd never been to West Virginia, and wasn't sure what to expect. I knew of the hick stereotype, but those things hardly ever live up to the hype. Well, I can't tell you about the rest of the state, but I can unequivocally state (pardon the pun) that whatever back road we ended up on did not at all disappoint.
October 6, 2012 – The Brute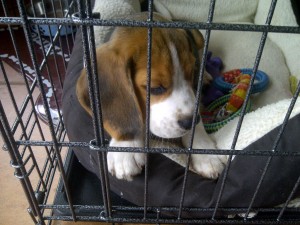 Sometimes I feel like running away. On one of those occasions, I made an impromptu overnight trip to Ezra's house in PA. His family had just taken in two Beagle puppies, and this one's name is Brutus. Not much to stay about this little feller, other than he might end you with cuteness.
October 19, 2012 – Coming Home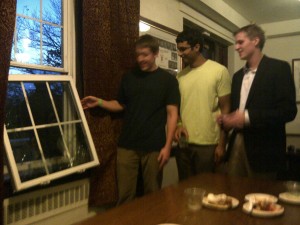 This occurrence took place during the aforementioned Lafayette Homecoming. I had been sitting across the dining room table from Uzi, eating and chatting it up with a number of fellow alum. I was looking in Uzi's direction when, out of nowhere, the window behind him fell out of its frame and came crashing down on top of him. This photograph details that event's aftermath.
It was an interesting experience to watch as the pane fell. Our friend Sagar, who'd been seated across from me, watched as my face transitioned from happy to completely alarmed, and afterward relayed that that, too, was an interesting experience. From my perspective, it all happened in slow motion, yet not slow enough. While it all went down in the blink of an eye, I remember consciously having the thought, "I have time to react, but not enough time to stop it from happening." So I did nothing, except apparently look terrified. It was weird.
November 18, 2012 – Hail to the FourSkins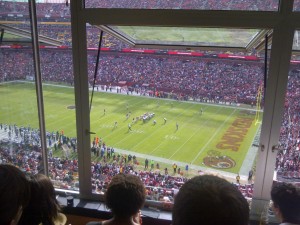 The company I work for has an owner's box at FedEx Field, and graciously gives its employees two free tickets to one game each year. I was able to attend the Colts-Skins preseason game (the first ever Luck vs. RG3 match-up) as well, but this shot is from the game against the Eagles.
Some of you might remember this one as the game in which the third of the Robert Griffins decided to defecate all over the opposition, throwing 4 TDs and running for 80 yards in a 31-6 rout. My friend Russ, a rabid and irrational Eagles fan, said after this one that he'd rather he were a Jets fan. Nuff said.
November 22, 2012 – Abandoned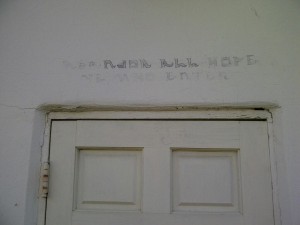 I returned home after Freshman year of college to my friends, Gabe and Kenn, waiting outside of my house for me to arrive. When I was a child, my parents had purchased the town's old firehouse that sat adjacent to our own home, and, for years, my friends and I had discussed turning the place into our hangout spot, but had never done anything about it. That summer, things were about to change. That's why Gabe and Kenn were there.
That day, we begun the process of turning this storage space into The Firehouse that we all came to love. Some of the greatest times of my life were spent there, from Street Spirit, Mortal Kombat and Wu Tang to playing Tap-Out with Israelis to a quick game of Washers before 20 North. Over the years, people came and went, but there was always the warning from Dante above the door: Abandon All Hope, Ye Who Enter.
When I went back to Niskayuna for Thanksgiving this year, I saw the line still above the door. It was still there, but faded. A metaphor for the building itself.
Science, do I miss that place!
November 22, 2012 – Hoarder Mice from Mars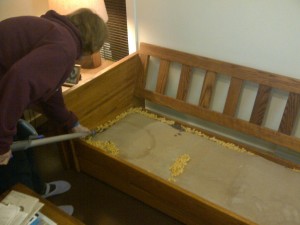 Later that same day, I was sitting with my mom in the living room watching TV. This room has 2 couches, and as my mom lives by herself, and this is how people work, only one of the couches ever gets used. At least, by her.
What we discovered that day was that a mouse had actually been using the other couch as storage, for both chocolate chips and egg noodles. He'd been hiding the food underneath the cushions of that couch for months. It was a very bizarre, but apparently effective, location. Until my mom's reign of terror with the vacuum cleaner.
November 23, 2012 – The Flop of the Century
My high school friends and I got roped into the WSOP, Chris Moneymaker fad hard core. Between sophomore year and graduation, arguably our main source of entertainment was poker. We didn't develop the 395 phenomenon until a bit later than that, but for years, now, we've been playing Hold 'Em by the following rule:
If the flop comes 3-9-5, the first person to point this out wins the pot, no matter what. If someone cries wolf, s/he has to match the pot.
In all of our years gambling, I'd never seen or heard of this happen. Not even out of order, like a 9-3-5 or something. On this night of nights, however, it finally did, and wow, was it worth the wait.
I mean, good God, Amelio, LOOK AT THAT BEAST!
December 6, 2012 – Work/Life Balance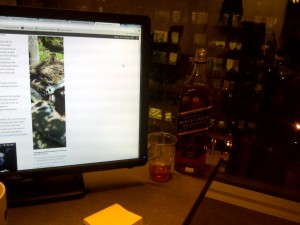 No matter how much you enjoy your job, there will always be times where you're just not feeling it for whatever reason. These often happen during the crucial, and thus stressful, end of the fiscal year.
I was sitting in my office late one night, exhausted with work. Then I turned around and looked out my 100+square-foot window that overlooks Farragut North at the intersection of 17th and K. I thought about how far I'd come in just over a year. The previous fall, I'd just gotten laid off, and had no idea where the next job would come from. Just over a year later, after getting hired by my dream company and being promoted twice, I was managing people, and sitting in what will probably end up being the dankest office I'll ever have in my life.
I pulled out a bottle of Johnny Walker Black from my desk, poured myself a glass, and opened up Bobcat Territory. Life isn't always bad, after all.
December 25, 2012 – Father Christmas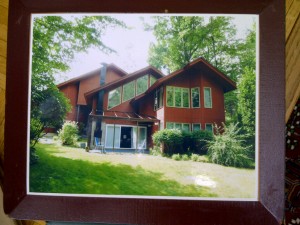 This is a picture of a plaque with a picture of my house. Try that one on for size.
Some of you readers have seen or been to my house. For those of you for whom  that applies, I'm sure you would agree that this picture does not really show what my house "actually" looks like. My house is embedded into the side of a hill – the bed upon which I sleep is technically underground – and the angle from which people normally approach doesn't allow you to see much of the building at once.
This, however, is a perspective which people are rarely granted, and it makes me think of my dad. During his time, he was a wildly successful chemist, and he would sometimes get asked what he thought made him so successful. His answer, invariably, was that he always remembered to turn something over and look at it from the other side. With this picture, and in life, you often find something you might not expect.
January 20, 2013 – Out for a Night on the George Town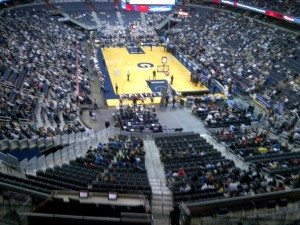 A guy at work was giving away tickets to this year's Georgetown-Seton Hall game, and because I responded fastest, I was given four passes to the Lexus Suite. In general, I loathe college basketball, but I was extremely excited. I'd never been to a big time college basketball game, and Georgetown is a major program. Plus, there would be free food and craft beer. Free beer of any kind is good, but when you know that it would have normally cost $10 for a mere 12 ounces, it's just that much more delicious.
Well, the experience turned out to be completely underwhelming. The beer was not free. Georgetown was a middling, unranked team with no star players, and was playing a Seton Hall team that was even worse. When we arrived early in the first half, the Hoyas were already doubling up on the over-matched Pirates, and the same was true when the final buzzer sounded. The crowd reflected that, as the stadium was only about 25% filled. And, as it turned out, the beer and food was not free. Instead, they were charging us $10 for a mere 12 ounces.
Of course, in February, Georgetown rode a dominant winning streak to a top 10 ranking. By the time I was made aware of this, they'd achieved a 2-seed in the upcoming March Madness tournament. Knowing that I'd personally attended a game for what could turn out to be this year's national champion, I was hoping they'd do well this year. Instead, they were one of only seven 2-seeds in 27 years to ever lose in the first round. Fantastic.
March 9 & 27, 2013 – The Closest of Calls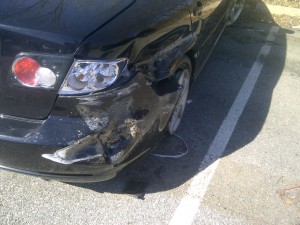 These are, and always will be, two of my least favorite pictures of all time.
During the second weekend in March, Bullets and I were driving up to Philly to spend Saturday hanging out with Ezra, Spieler, Micah, and Mark. As we were about to leave Maryland and enter Delaware, our car started to shake ever so slightly. At first, I thought it was uneven pavement, but as the vehicle began to legitimately shudder, I realized the car was the problem, and I tried to slow down. As soon as I hit the breaks, we swerved out of control, careened off the road, spun 200 degrees, and crashed into the guardrail of the grass median.
We were both fine, and after dealing with an idiot tow-trucker and a hilarious, wise-cracking automotive dealer, we trekked to Buffalo Wild Wings and got picked up by Mark and Ezra, making it safely to Philly.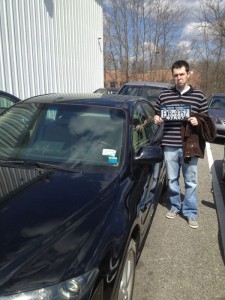 The car, however, was not fine, and the insurance company ended up totaling it. In the second picture, you can see me regretfully standing next to my car a few weeks later, when my girlfriend and I drove back to clear out my belongings and grab my license plates so the insurance company could destroy it.
I'll remember a number of different things about that car, but the thing that jumps out at me as I write this is driving with my mom to pick it up from the Mazda dealer the day we bought it. We were joking about how I should get a vanity plate that reads "395 395," or something like that, but that it was probably not the best use of money. When we showed up, the license plate on the car read, "EWB 9352." It was that close.
March 19, 2013 – The Bridge on the River Swanson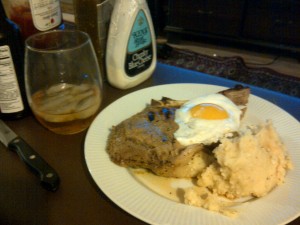 These are the last pictures I'll share, not only because they're the last ones I have, but also because I'm quickly approach 3,000 words for this bad boy.
For awhile now, NBC's Parks and Recreation has been one of our household's favorite shows. For those uninitiated with the show, let me give you a strong recommendation to immediately correct that oversight. However, for the time being, let me simply introduce you to Ron Fucking Swanson.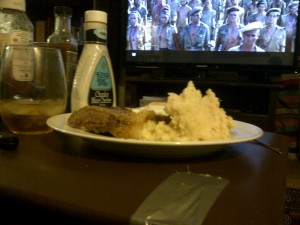 At the beginning of one episode, the show's main character, Leslie Knope, finally discovers the date of Ron's birthday, and spends the entire show terrifying the man with hints of an overblown birthday extravaganza. At the end of the episode, Leslie reveals that she'd been fooling Ron all along, and instead of throwing him a birthday blowout, she'd orchestrated a quiet night for him to eat steak, drink scotch, and watch The Bridge on the River Kwai in solitude. As the credits for the episode roll, you can see Ron munching away in perfect satisfaction.
For months, Bullets and I had been wanting to replicate that night. Last month, we finally did. We let the Duke Silver Trio take us on a little journey…. to ourselves.