As most of you know by now (since I've written about it in this forum on a few occasions), I love Pong. Not only does it come close to maximizing the enjoyment I can get from drinking, it is inextricably linked to the nostalgia I feel toward my fraternity, DKE, and the house I called home for almost three years. I was first to play a game among my pledge class. Minutes after initiation into our brotherhood, while many of my pledge brothers went to sleep, I was on the table dangling with alumni. Forget about just playing – I've spent days in our basement Brother's Bar just watching others hitting around. It's been official for awhile now – I'm obsessed.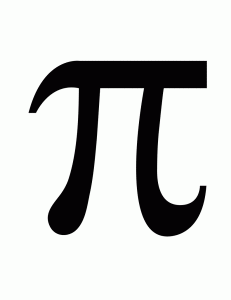 The most productive manifestation of my devotion to The Beastiful Game, and the one of which I'm most proud, was founding The First Annual Milwaukee's Best Light Brother Pi Invitational Pong Tournament (no, the sponsorship was not official) during my second semester senior year.
Before that, the lack of a house pong tournament at DKE's Rho chapter seemed like a travesty. Other houses, notably DU, had at least one annual, traditional competition. This left me completely underwhelmed because, as is the case with all frat bros, I'm convinced DKE, my house, not only had the best players on campus, but was the only one left playing a pure version of the game. After all, not only were our rules blatantly more rational, fair, and sane than anyone else's (fine, so maybe I'm a bit bias), but we were the only organization using blocks of wood, personalized and designed specifically for Pong, for paddles. All the other houses were using ping pong paddles. As Jimmy Vollmer would say, "I mean… come on!"
At the start of the spring semester, I decided to take matters into my own hands, and once I'd sent out an e-mail, the rest was glorious history. Immediately, there were debates over who the #1 seeds should be and who would win different match-ups. Ezra and I ended up winning the whole thing (We Da Witnesses!). Had we not done so, I would have been disappointed for sure, but the tournament would have been magnificent nonetheless.
The tournament got everybody in our fraternity involved, something that was rarely the case with your day-to-day pong. The first happy hour games, for example, were usually claimed by the better, more experienced player; furthermore, since we had to stop playing when the room got crowded, the newbies and scrubs (i.e. sophomores) almost never had a chance to hit around. Brother Pi, conversely, was all inclusive – all the brothers were given that chance.
Another key, world-shifting dynamic Brother Pi created was the pong analytics movement. We would have scorekeepers track stats on the sidelines, and then post those box scores outside our dining room. That, of course, led to an exorbitant amount of trash talk, which is never a bad thing.
It also added new fodder for age-old debates. Everyone always had a sense who was good, who was bad, and who was in between, but those impressions were purely anecdotal. We had no metrics to back it up. Brother Pi changed all that when we started keeping track of numbers – hits, saves, and sinks. In the following years, the brothers introduced things like Unforced Errors (UFEs), Save Opportunities, and Saved Hits, to name a few.
After the tournament was over, I compiled the statistics that we had a record of (pong is a drinking game, after all, so we were definitely missing some from the more anonymous Group Stage games) and posted them in our dining room. After I graduated, I'd thought I'd lost those numbers forever, but I ended up coming across the Excel file as I was cleaning out some folders.
Below, I've listed those numbers, and a number of graphs I played around with for fun. While I wish we could calculate 395 more things like UFEs/Game, Point Differential, Save %, % of Hits that Earned Points, and even (Hits + Sinks) / Attempted Shots, we don't have the numbers for that, so these will just have to make do.
Please enjoy.
RAW DATA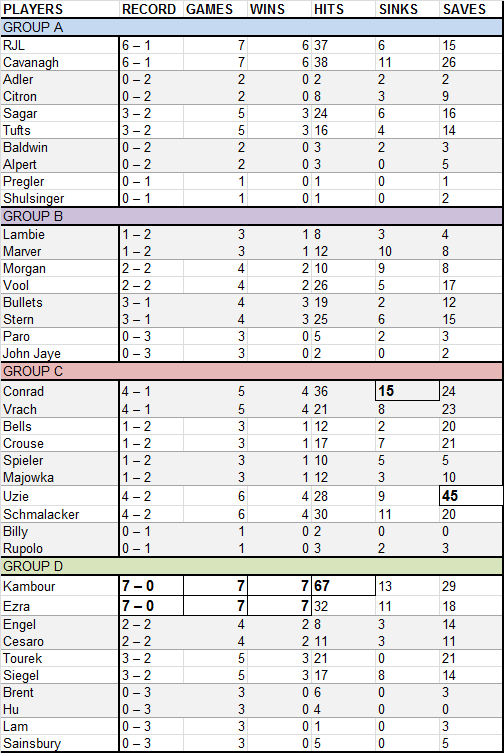 PLAYER COMPARISONS
TEAM COMPARISONS