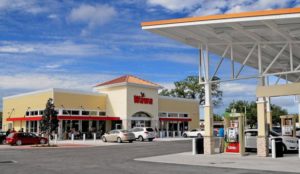 Gas stations and convenience stores are so properly termed, I just googled for an antonym to the word misnomer. What I mean is, they only exist to serve a very specific purpose: we need gas for our cars, and when we need to purchase a limited, defined item we prefer to do so as conveniently as possible. Thus, the value these retail businesses convey is pure utility. And outside of our passive appreciation for their practicality, we don't have any feelings about them.
That is, except Wawa. I freaking love Wawa.
Think of how weird that is? Can you imagine anyone saying that about other stores in the category – whether it's BP, Mobil, Circle K, Sonoco, Hess, Lukoil, et al? The closest thing I can think of? That kids in high school loved the Getty in Schenectady because they could buy beer there without an ID. That's not the type of well-crafted brand loyalty I'm talking about.
No, I'm talking about all the instances cited in This Ringer Article About Wawa's Expansion into DC, which include among many other anecdotes:
Assertions that this news is more exciting than law school graduation
Liz Lemon celebration GIFs
The sentence: "It is difficult to overstate just how intense the cult of Wawa is."
For readers who don't know, I'll again steal from that article to summarize things: Wawa is a "convenience store chain that snakes out of Philadelphia and across the Delaware Valley," and " drives people from Philadelphia… out of their otherwise reasonable minds." The reasons? It's "well-lighted." They have a six-week Hoagiefest sale every summer. And Pennsylvanians "see Wawa as OUR corner store."
I'm not a native Pennsylvanian, but having attended Lafayette College I do have some Keystone State roots that definitely include a passion for this chain with a funny name. In fact, considering there were no other eateries of its ilk within walking distance from our campus, making a Wawa run was an integral part of the Leopard experience. Late night, after the bars closed, you legitimately might have to wait in line 45 minutes for sandwich.
That context inevitably colors my perception of the chain, but my adoration extends well beyond a pure nostalgic recollection. There are tangible things that Wawa does better than any other competitor. And actually, that's not even the way to put it. They're actually doing something that none of their competitors are doing at all.
My armchair-psychologist take? Consumers have never felt convenience stores needed to fill any other sort of vacuum, functional or otherwise, than the one they were already filling. We didn't realize we were missing something, and thus those businesses never thought to fill it either.
What I'm talking about specifically is convenience store food, a unanimously-distasteful cuisine populated by microwave burritos and stale hot dogs. Every once in awhile, you might find some low, knock-off-brand denizen of the fast food world – a Mr. Sub, for instance – attached to a 7-Eleven, but that's as gourmet as you would ever get. This is where you find hot food at its grimiest.
Wawa, in contrast, singularly takes a different approach, combining the portability and speed of fast food with Panera's freshness and taste – and then leveraging their Open-24-Hours premise by having their menu serve breakfast, lunch and dinner. Now, their sausage-egg-and-cheese hoagie is one of my favorite breakfasts. I drive out of my way for their iced coffee. Their mac and cheese is an all-time classic. And although my friends might have different go-to orders than I do, that's sort of the point. Whatever your hoagie, or side, or whatever of choice is, you're probably excited about eating it.
Now, a minivan can pull up outside to refuel, and without having to make a second stop, the whole family can pop out excited for lunch, with mom happy her kids aren't eating McDonald's.
That's just genius. Had to pay my respects.